Electromagnetic Spectrum Synthetic Environment
Platform Electronic Warfare Self Protection (EWSP) systems and Tactics, Techniques and Procedures (TTPs) need to be continually evaluated and evolved.
The Australian Defence Force (ADF) operates in an ever-evolving threat environment. To remain effective, platform Electronic Warfare Self Protection (EWSP) systems and Tactics, Techniques and Procedures (TTPs) need to be continually evaluated and evolved.
The Australian Airborne Countermeasures Team (AACT) required a harmonised simulation environment to support the integration of digital, human and hardware-oriented systems and provide a holistic test and evaluation capability for platform survivability.
Primarily Air focused, future requirements indicated that the capability would need to transition into an Integrated Domain, to provide coverage across the Land and Maritime domains by leveraging the experience obtained in the Air domain.
The approach to delivering against the challenge was to establish a long-term comprehensive development, validation and sustainment program. This would ensure the progressive requirement for platform survivability assessments could be achieved whilst building a long-term capability for the ADF. The approach included:
M&S Infrastructure:

Developing M&S core infrastructure comprising integration of ICT systems, development of simulation interfaces, system architecture and functional capabilities across Air, Land, and Maritime. An extension to Space is under consideration.

Modelling & Simulation:

Modelling of full-spectrum sensor and effector models for air, land and sea platforms, integration and set-to-work of hardware acceleration capabilities, and designing and developing an operational simulation capability. There was a strong emphasis on supporting Live, Virtual, and Constructive simulations to enhance integration, interoperability and reach of the capability and reach of the capability.

Systems Integration:

Significant emphasis on integrating M&S environments with hardware-in-the-loop simulation facilities, harmonisation to support Joint Domain experimentation, and liaising with other technology development groups to integrate the specific components, techniques, and effects.
The key outcomes delivered through this program includes:
A turn-key multi-domain survivability analysis tool-chain which provides support across the DST Group, the Australian Airborne Countermeasures Team (AACT) and the Joint Survivability Tactics Validation Unit (JSTVU) customer groups.

High-fidelity M&S capability which successfully integrated digital models, human operators and hardware systems to achieve high levels of confidence.

Persistent depth of knowledge and capability in the Electromagnetic Spectrum to support platform and mission survivability programs.
We have a strong reputation for taking on complex challenges. Find out more about the ground breaking work and projects we've undertaken.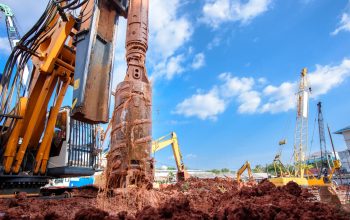 In collaboration with Veracio (formerly Boart Longyear) we developed the TruStructure application — a cutting-edge, web-based platform for structural and geotechnical logging.